We Are a Proud
Microsoft FastTrack

Partner
Learn about our close Microsoft FastTrack partner collaboration and what the partnership means for your business growth.
OUR CLOSE PARTNERSHIP WITH MICROSOFT
Our team collaborates closely with the Microsoft FastTrack team with every engagement. We are able to gain deep insights into Microsoft products, future releases, and additional project experience, along with support when organizations need it most. This, in turn, helps us validate our project approach, so we can propose better approaches and solutions for our clients.
As a FastTrack Partner, we provide support for project management, performing remediation and hands-on configuration, implementing change management and process optimization, on-site readiness, and training. In addition, we not only implement solutions, but we will arm your team with the knowledge needed to utilize Microsoft Dynamics 365 to its full potential and perform project audits and review existing or future functionality to ensure it is future-proof.
As we have close partnerships with the Microsoft FastTrack team, you can count on us to create a tailored experience for your organization, with an end-to-end experience that will guide you toward success.
To help you use Microsoft Dynamics 365 to its fullest extent, we have experts that provide support to your organization as we deploy a more stable and future proof platform for your organization. Ludia Consulting works closely with the FastTrack Team so we know the latest and greatest methods for implementing and helping you gain more value from our solutions.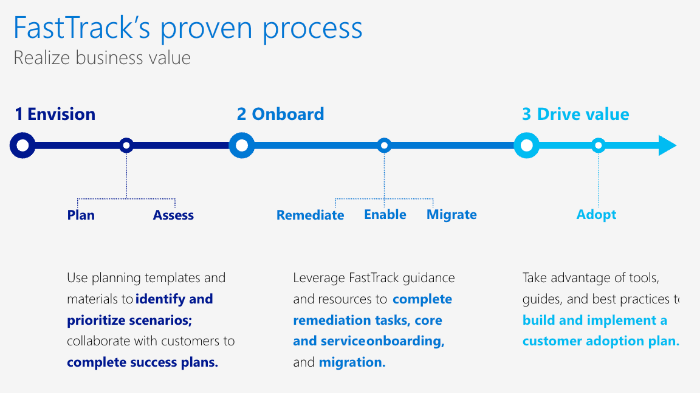 Envision
To identify and prioritize scenarios and to work with customers to complete success plans.
Onboard
Utilize FastTrack to help you onboard your organization as well as migrate all of your assets.
Drive Value
Build and implement an adoption plan that benefits the needs and wants of our customers
Let's Get Started
Let's have a conversation. Reach out to us today for a chat with one of our trusted professionals
to see how we can transform the way you look at your business.